Inflatable Pools Information
When the weather gets hot, your family is going to need a way to cool off. A blow up pool is a great option that allows you to have the fun and enjoyment of a swimming pool, without the expense and inconvenience of putting in a permanent fiberglass pool.
What Are Inflatable Pools?
Inflatable, or blow up pools are temporary and relatively inexpensive pools. These types of pools are a great option for those who want the enjoyment of a pool, but cannot afford a large in ground or above ground fiberglass one. These types of pools are available in sizes that are designed for a single child, as well as those that are designed to fit the entire family.
Blow up pools have sides that are filled with air to provide the stability needed to hold water. When the pool is no longer in use, the air is released to make pool storage much easier. Inflatable pools come in a wide range of options, and can have many additional add-ons to make a more enjoyable swimming option.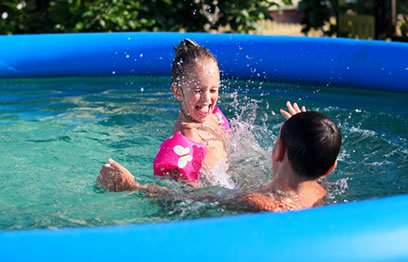 Blow Up Pool Considerations
When making the decision to go with inflatable pools, you will need to consider several factors. Blow up pools can make for an enjoyable option, but you want to make sure that you choose one that will best meet your needs and expectations.
Size
Blow up pools are available in wide range of sizes that are designed to address individual needs. You will want to make sure that you choose the best size for your location, so you may need to take some measurements beforehand. This will ensure that you actually have the room needed for your pool so that you can avoid costly returns.
You will also need to consider the purpose of your blow up pool. If you are looking for an inflatable pool for a small child, you will need one that is shallow – commonly referred to as wading pools. If you are planning on purchasing a pool that can hold teens and adults, you will need one that is much larger in both circumference and depth to make sure everyone can enjoy it.
Shapes
Blow up pools are available in many different shapes and configurations. Some inflatable pools are attached to playhouses or other structures, while others are basic circles. There are also rectangular and oval options – the key to choosing which option is best for you is to determine the actual amount of space that you have available in your yard.
Durability
The nature of blow up pools can leave them vulnerable to punctures and tears. To avoid this, you will want to choose a highly durable material that can withstand rough play as well as sticks and other potential hazards in the yard.
Some blow up pools have separate air compartments to protect the pool from completely deflating. While these types of pools may require a longer setup process, they protect against the entire pool deflating and emptying due to a single puncture or hole.
Types of Inflatable Pools
There are several different types of blow up pools available. There are those that have a single ring that is blown up to provide the overall shape of the pool. These pools require you to fill the ring, which will cause the sides to rise as it fills with water.
There are also blow up pools that include an air chamber that is supported by a metal or PVC frame. This type of pool is generally larger, and the additional frame helps it to hold its shape and maintain durability all summer long.
Features
Many blow up pools include accessories that are built into the overall design. For smaller kiddie pools, these accessories can include seats, slides, sun shades, or sprinklers to keep the child entertained or add extra protection from the sun.
Add Ons
Many blow up pools also allow you to add additional features. Larger pools hold considerably more water, which can make keeping them clean difficult. Rather than replacing the water constantly throughout the summer, you can purchase filters that will help keep the water clean.
Smaller children may have difficulty getting in and out of some blow up pools, but there are ladders available that can make this easier. Inflatable pool ladders often attach to the side of the pool, allowing users to get in and out without causing excessive water loss due to the sides caving in due to their weight.
You will also want to consider a pool cover to protect the water when not in use. There are a wide range of blow up pool cover options that are designed to accommodate specific sizes and shapes. There are also solar covers available that will help keep the pool water at a comfortable temperature, even if it suddenly gets cooler overnight.
Lights, Speakers, Fountains, and other Accessories
Blow up pools are great entertainment on their own, but if you are planning on spending lots of time in your pool, you may want to add accessories that will add to your enjoyment. There are many different types of accessories available, including lights, speakers, and fountains. Many lighting options incorporate a fountain effect, and many of them even change colors while they are on. There are also lights that are designed to stay submerged, providing a light show on the bottom of the pool.
There are also waterproof speaker and sound systems available for blow up pools that allow users to listen to their favorite music during their water fun. These are a great option for parties and get togethers all summer long.
Blow up pools are a great option for those who want the fun of a pool, but not the permanence of a fiberglass pool. There are so many different options available for blow up pools that you are sure to find one that fits your needs, and your budget. If you are ready to cool off this summer, check out our blow up pools today.